Photo Gallery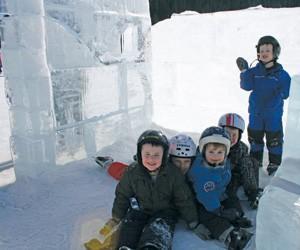 Truly Great Friends
Published: 02/15/2011 by Stacey Ibach
One of our favourite things about homeschooling is the flexibility it provides us in our daily choices. What tops that list is to get together with friends! We are very fortune to have a family, the Reimer's, with children the same age, who have chosen to homeschool. They are truly great friends. With this special friendship comes endless impromptu adventures that would otherwise be missing from our overly scheduled lifestyle.
We have a joint passion to search for unique playgrounds throughout the city and join whatever programs we find interesting together. We join in the joys of each other's discoveries, accomplishments and even disappointments as we travel this homeschooling journey side
by side.
The 2010 Winter Olympics in Vancouver was something we shared with enthusiasm. We loved the great moments. The athlete's triumphs and failures were relived together every meeting. At the conclusion of the Games we were all feeling a sense of loss. To lift our spirits we decided to go skating. We couldn't just go anywhere…it needed to be someplace grand! Lake Louise with all its crisp beauty and view of the Victoria Glacier came to mind immediately.
With friends, lunch, skates and helmets we ventured out of the city. Upon entering the parking lot and discovering how busy it was we were not particularly optimistic but the smell of fresh mountain air encouraged us to venture forth.
Everyone scrambled into their snow pants, grabbed their gear and headed to the Lake. As we emerged from the forested path and entered the hotel grounds we discovered an ice castle and… the Olympic symbols in an ice sculpture! Even with the crowds we had plenty of room to shuffle around the ice and enjoy what proved to be a beautiful sunny winter day in the Canadian Rockies.
Eventually we retired our skates and explored the hotel. We ate lunch overlooking the Lake and enjoyed hot chocolate before heading back to the Calgary. It was a glorious morning and a great way to exercise the flexibility homeschooling affords us. However sharing this experience with friends was the highlight of the day.
Connecting with friends is such an important part of learning more about yourself and feeling part of a community. The Reimer family has always made us feel part of something special and we are truly grateful to have them in our lives. <>